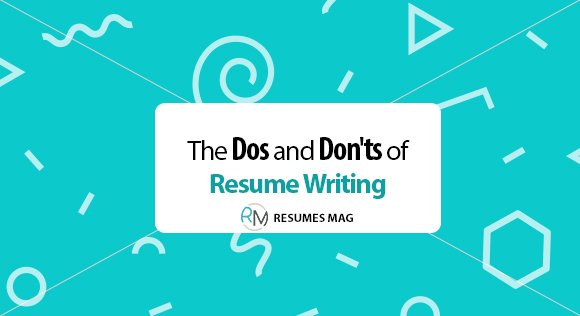 .Writing your resume is a crucial process that is considered to be the very first step in your search for a job, and as a job seeker, you have to know the dos and don'ts of resume writing, as that would give you a better chance of selection. 
When drafting an ideal resume, you may feel that it is a tough task, but once you get the hang of it, it becomes more comfortable.
So, to get there; you need to spend quality time to draft that resume.
It would be more interesting if you considered your resume as a marketing tool for yourself in the job market, that represents your strengths for potential employers, so it is a formal chance for you to demonstrate your qualification for the position of interest.
The Dos and Don'ts of Resume Writing
As we stated, there are specific points that one should consider while writing his/her resume, so let's dig deeper to know the dos and don'ts of resume writing that can give you a winning resume.
Dos of Resume Writing
Do write what you need to write and then be done – For years, we were always told to keep resume limited to one page. That is an excellent rule to follow, but sometimes one page isn't enough. You don't want to eliminate crucial job skills or essential training to get everything to fit onto one page. If you need more than one page, use it. But just if you need!
Do place extra focus on the skills or job responsibilities that are transferable – This means you want to focus on duties and responsibilities from previous jobs that can benefit you for the position in which you are applying for now.
Do use facts and figures – You must read before that recruiting managers like to see data as proof for candidates skills. So, obey this rule by focusing on writing facts and figures that prove you are skilled. That is instead of including soft skills like "Can work under pressure" which is welcomed nowadays.
Demonstrate your social side – Be resourceful and identify what your interviewer or prospective employer likes to do. You can use Common interests to strike a chord. Does the organization go on regular away days? Find out what they get up to, and list leisure activities that make you compatible. Particularly among creative start-ups, there is often a company culture

that you will be expected to engage with – inside and outside of work – so be sure to demonstrate your social side.

Do provide evidence of your experience – It is not always sufficient to provide a list of the companies you have worked for it. Try to show how you achieved success; by stating Awards you won, Results you achieved, Problems you solved, Skills you gained, and so.
Show a different side of you – Without distracting the reader, some sections of your CV should focus firmly on fitting a person specification typical of your role. Here you are free to paint a more diverse picture. So if you're a data analyst who is also multilingual and knows how to code, let them know!
Don'ts of Resume Writing
Don't make your resume too long – Irrespective of how many years of experience you may have. There is no reason for someone's resume to go more than two pages, except in rare situations. Remember your resume is all about getting you noticed, and hopefully invited in for an interview. Reading a long novel won't prove you to a prospective employer.
Don't include irrelevant information – Your employer won't see your selling points when you add too much relevant information. Only include what you feel your employer will be looking for in a particular job vacancy.
Don't Copy Job Description – When you are applying for a job role, it is a good idea to optimize your resume document for the job description, mainly in sections include your skills and experiences. But while you are doing that, don't copy phrases from that job description. Instead, find a different way to write words that give the same meaning.
Ex: Company searching for a candidate that "Can collaborate effectively with others" you can make your resume includes how you succeeded in collaboration with other team members to achieve specific goals for a particular project.
Don't risk – If in doubt, play it safe. You may be proud of your family history of fox-hunting, but how will the vegan recruiter in HR react? It can lead you in the opposite direction. You might be passionate about a particular cause or movement, and those are admirable, but beware of isolating those who don't share your views.
Don't list personal references on your resume – In fact, you might not need to write any references at all. A lot of job seekers like to do the whole "references available upon request." It can be fine, but make sure those references you do include are business-related ones.
Going for an interview with an impressive resume is half the battle won. So, consider following the above dos and don'ts of writing a resume to get yourself invited for as many job interviews as you seek.
And remember, each job vacancy is different, you should tailor your resume and cover letter to the position you are applying for it, and the company as well.
My name is Kara. I am a professional writer with over 6 years experience in writing. Am a Google Partner and Google Maps editor.