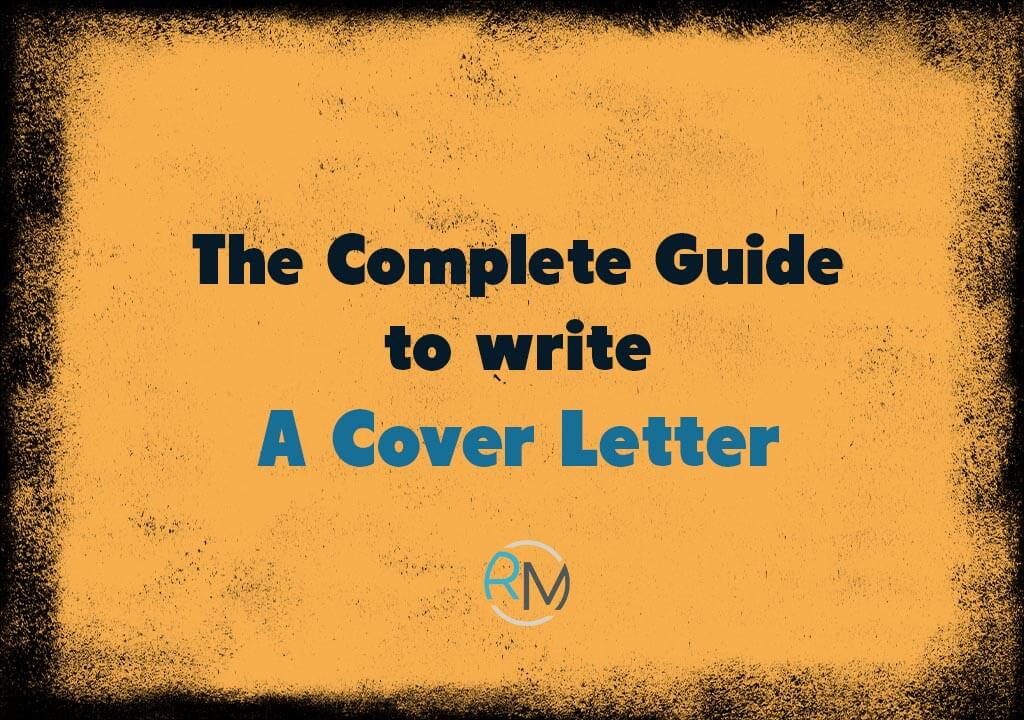 Many people don't give The Cover Letter the respect it deserves, assuming that there are no specific guidelines while writing a cover letter. However, that's genuinely not the case, and to land that dream job, you need to know how to write a cover letter?
How to Write A Cover Letter
The cover letter is included when you are passing your resume to apply for a job. The letter is given to the person who has a say on the people who are being hired. It also includes a brief explanation of why you want to apply for the job and join the company.
You may say that it is simple to create one by filling out the blanks of a cover letter template. Yes, that may help. But there is more to know, as these templates should be only used as a guide.
In this article, we will discuss some of the Do's and Don'ts while writing a cover letter, and will show samples for it in order to clarify how to write a cover letter the right way.
Read also Five Tips on How to Write a Killer Resume
The DO'S of Cover Letter Writing
Be Original – You want to make sure your cover letter is original with each different employer. You never know who talks to whom and who can be comparing. Furthermore, when each cover letter is unique, you are personalizing yourself individually for that company.
Make it an easy read – Focus on the task at hand, write your cover letters as forthright and straightforward as you possibly can. Unnecessary words are just that, pointless; you do not need them.
Write as you speak – Make it sound like a real person wrote by using a professional, conversational tone. Many people fall into the trap of using big words to communicate, and the writing comes off as stilted.
Addressing –

 

You want to make sure you always address your cover letter to a person. This person should be the one in charge of hiring. If a resume and cover letter are requested, with no knowledge of a named person, you should address the letter to "HR" or the hiring manager.
Sell Yourself – A cover letter is more than just a business letter; you may consider it a sales letter. Begin by establishing your credibility, and layout the benefits you offer with a substantial introduction, by showcasing your accomplishments.

Signature –

 

You must not forget to sign your cover letter, in ink personally. By signing your cover letter, you are adding a very personalized and real touch to the entire cover letter.
The DON'TS of Cover Letter Writing
Don't rehash your resume – Be creative when presenting your qualifications and accomplishments. You don't want to repeat what is already in your resume. Make use of another method to deliver the same message.
Salutations – 

Do not be pointed within the greeting, you never know in what hands your cover letter will fall, male or female. Therefore never use addresses such as "Ladies" or "Gentlemen".
Grammar, Spelling, Punctuation – Do not forget to run a spell check or similar check on your cover letter before you send it. If you fail to find and correct spelling, punctuation, or grammar errors, you will have a hard time convincing any potential employer that you are a potential candidate for the job.
Read also What is The Ideal Resume Length
The body of Cover Letter
Mainly body of the cover letter is divided into three sections, The Opening, The Middle, and The Final.
The Opening – 

This section should include a reason you are writing for. You also need to mention the company name, and the job you are applying for.

The Middle – 

Here you should provide details to prove that you are the perfect fit for this job, you have to do so while avoiding repeating your resume.

The Final – 

End your cover letter with a nice closure, and don't forget to provide follow-up information.
Examples for Cover Letters
Here are four cover letter samples we pull for your own use as a guide while writing a cover letter. 
1
Your Name
Your Address
Your City, State, Zip Code
Your Phone Number
Your Cell Phone Number
Your Email

Date

Dear Mr Black,

Please find enclosed my CV in application for the post advertised in the Guardian on 30 November.

The nature of my degree course has prepared me for this position. It involved a great deal of independent research, requiring initiative, self-motivation and a wide range of skills. For one course, [insert course], an understanding of the [insert sector] industry was essential. I found this subject very stimulating.

I am a fast and accurate writer, with a keen eye for detail and I should be very grateful for the opportunity to progress to market reporting. I am able to take on the responsibility of this position immediately, and have the enthusiasm and determination to ensure that I make a success of it.

Thank you for taking the time to consider this application and I look forward to hearing from you in the near future.

Yours sincerely

Your Signature (hard copy letter)

Your Typed Name
2
Your Name
Your Address
Your City, State, Zip Code
Your Phone Number
Your Cell Phone Number
Your Email

Date

Dear Hiring Manager,

I was excited to read about the Administrative Assistant job opening at ZYX company. I have several years of experience in a variety of fields including insurance and finance.

In addition to my extensive office experience, I have strong communication, customer service, and administrative skills. My broad background makes me an excellent candidate for this position.

Thank you for your consideration. I look forward to hearing from you to arrange an interview.

Sincerely,

Your Signature (hard copy letter)

Your Typed Name

3

Your Name
Your Address
Your City, State, Zip Code
Your Phone Number
Your Cell Phone Number
Your Email

Date

Dear Ms Green,

Confused by commas?
· Puzzled by parenthesis?
· Stumped by spelling?
· Perturbed by punctuation?
· Annoyed at the apostrophe? (And alliteration?)

Well, you're not alone. It seems that fewer and fewer people can write. Unfortunately, there are still a lot of people who can read. So they'll spot a gaffe from a mile off. And that means it's a false economy, unless you're 100% sure of yourself, to write your own materials. (Or to let clients do it for themselves.)

To have materials properly copywritten is, when one considers the whole process of publishing materials and the impact that the client wishes to make, a minor expense. Sloppiness loses clients, loses customers.

There is an answer. Me. Firm quotes are free. You can see some of what I do on my multilingual website at [insert web address]. If you'd like, I can get some samples out to you within 24 hours. And, if you use me, you'll have some sort of guarantee that you can sleep soundly as those tens of thousands of copies are rolling off the presses.

Luck shouldn't come into it!

With kindest regards

Your Signature (hard copy letter)

Your Typed Name

4

Your Name
Your Address
Your City, State, Zip Code
Your Phone Number
Your Cell Phone Number
Your Email

Date

Dear Hiring Manager,

In today's customer service oriented society, timely, friendly, proactive service is sought to enhance future business growth. Customer loyalty is always impacted when you employ the right service professional to represent you when assisting your valued customers.

My long-term experience in the service industry has taught me how to meet and exceed each customer's expectations with service that sells. I have assisted all types of customers in all types of settings. I realize that acquiring and maintaining loyal repeat business as well as spreading the word of your business through these loyal patrons is of the utmost importance in every company.

Positioning a company for better exposure and greater marketability is a task that I have performed with success many times.

I am an excellent trainer who achieves ongoing success with her teams by building morale, maintaining teams' self-confidence, and training them to build the sale by improving their people skills.

It would be a pleasure to interview with you and I look forward to hearing from you soon.

Very Sincerely,

Your Signature (hard copy letter)

Your Typed Name
I am a professional writer, specialized in the field of Resume Writing, and Career Tips, I had the chance to join an elite league to work together on a project that will have a great impact on all of us.