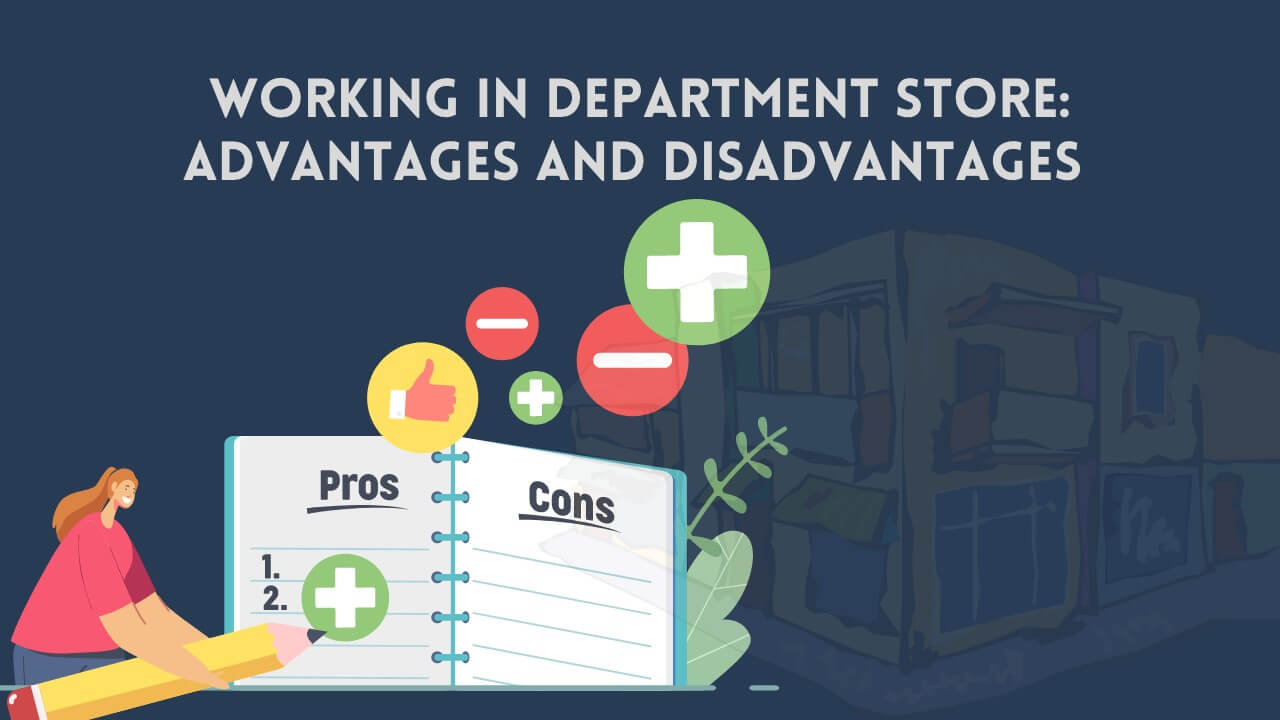 According to the Bureau of Labor Statistics, around 20% of retail workers in the United States work at department store facilities. The bulk of workers is salespeople. Selling goods, assisting customers in finding and selecting products, accepting payments, and stocking shelves are common responsibilities for retail workers.
What Are Department Store Jobs?
There is no requirement for a college degree to land a job, and age limitations might vary widely between companies and states. While department stores do have full-time roles, a third of retail employees work part-time.
Sales associates that work in retail establishments that sell a wide range of products are often assigned to certain categories, such as apparel, jewelry, home furnishings, and cosmetics. Most new workers are required to go through a period of training before they can begin their work.
Internships can range in length from a few days to a few months, and they are frequently associated with varying wages. The median hourly wage for retail salespeople is around $10.00, but this might vary based on commission opportunities and the department store's position.
In general, store managers and department supervisors are paid more than their counterparts in lower-ranking positions
As a Department Store Employee, What Are The Career Options Available to You?
Because these stores have a lot of different specialty "departments" all under one roof, it's clear that these stores have a lot of different things. In each department, you might find a wide variety of things for sale. Cameras and clothes are two examples.
You might also find food and drink in each department. This is a much bigger problem for people who want to be store managers, visual merchandisers, buyers, and merchandisers. These bigger, more complicated stores are a lot more difficult. In addition, sales assistants and people who work on the shop floor can move around a lot during their jobs.
A lot of people think that department stores in the United Kingdom sell good things, which can be pricey. They also make a lot of money because they have a good name all over the world, which makes them popular places to visit. There are a lot of tourists in London every single day, for example. Harrods, Selfridges, and Harvey Nicholls are some of the stores that people go to.
Skills Required for a Job at a Department Store
A department store caters to a wide range of clients and price points. JCPenney and Sears, for example, often have open positions, but organizations like Nieman Marcus and Nordstrom may be more selective in their hiring process.
Getting hired at more upmarket locations can sometimes necessitate having extensive sales experience. Jobs at more expensive department stores are preferable, as commission-based income is common in these roles.
Job seekers who have strong interpersonal and persuasion abilities have an advantage in the sales industry. Hiring managers may also give favor to candidates who offer flexible availability, such as evening, weekend, and holiday scheduling alternatives. Flexible availability.
See Also: How to Apply for a Jobs at Kmart Online Australia
Department Store Job
Doing Your Job
The majority of the opportunities for department managers are found at the larger discount and department store chains. Some of the more common job functions include recruiting and training new staff, delegating jobs, and aiding shop managers with administrative activities.
Other responsibilities include addressing customer concerns regarding products, services, and merchandise. A part of an administrative position's responsibilities may involve taking phone calls and filing paperwork, for example. The typical training period for a department manager is anywhere from a few days to a week, and it includes both classroom and hands-on education. Product or service knowledge is required for most department manager positions.
Best Buy and HH Gregg, as well as JCPenney and Marshalls, may expect department managers to have a working knowledge of electronics, while other department stores like JCPenney and Marshalls may expect department managers to have a working knowledge of fashion accessories like clothing. Managing a department is a two-way street for both personnel and customers.
An ideal applicant has strong interpersonal, motivational, and leadership skills. Job candidates aiming for retail management opportunities benefit from attributes such as adaptability and professionalism.
Requirements for the Post
Depending on the company and the department, the requirements for department management positions can be rather different. For the most part, department shops look for retail or managerial experience.
Most retail stores, on the other hand, exclusively hire people over the age of 18 for management roles. Having previous work experience with a prospective company can be an asset when applying for a job. A high school diploma or a four-year degree in a comparable discipline may also be required.
Compensation & Payroll
Retail department managers typically perform eight-hour shifts on a daily basis. Department managers normally work full-time, but shifts may vary depending on the department's needs and the availability of their supervisors.
The typical starting salary for a department manager is $11.00 an hour. Department heads with more experience might expect to make upwards of $30.00 an hour. The average annual compensation for a retail department manager is $35,000, according to the Bureau of Labor Statistics.
Retail store department managers typically receive 401(k) retirement plans, healthcare coverage, paid vacation, and employee discounts as part of their employment benefits package.
Doing Your Job
Customer service workers interact with consumers and provide a wide range of services in one of the largest job categories in the United States. Customer service employees are in charge of answering questions regarding a company's goods, services, and policies, as well as resolving any issues that may arise.
Customers may have questions about everything from product availability and pricing to shipping policies and refund policies. It's common for customer service representatives to answer the phone and operate cash registers at retail stores.
The typical working environment is a retail one, such as a storefront in a mall or a department store. Customer care representatives frequently work alone or on their own projects.
Requirements for the Post
However, some organizations do not demand any educational requirements for customer service personnel in retail outlets.
Candidate age ranges from 16 to 18 years old depending on the store. Strong interpersonal skills and a positive outlook are two qualities that most businesses look for in a customer service representative. Workers are expected to maintain a professional demeanor at all times and display a strong understanding of store policies.
In the majority of cases, customer support representatives are paid for training. Computer literacy and basic software skills are also required.
Compensation & Payroll
Pay and benefits for customer service representatives vary depending on the location of the store. Customer service representatives typically earn between the federal minimum wage and much over the state's maximum hourly rate of $20.00.
About $11.00 per hour or $23,000 a year is the typical salary for customer service professionals. More seasoned customer support professionals may be paid more than $40,000 per year. Customer service representatives in New York City, Chicago, and Atlanta typically earn the most money.
Doing Your Job
Brand representatives, retail salespeople, customer service clerks, customer experience associates, customer service agents, and retail associates are all examples of job names for sales associates. Retail sales workers have a wide range of responsibilities in addition to their many aliases.
Retail sales employees are primarily responsible for helping clients make purchases. Customer service, product recommendations, directing consumers to inventory, and stocking shelves are among the duties of retail sales associates at large businesses with many personnel.
Additional duties may be assigned to retail sales workers at other businesses, such as finishing transactions, processing returns, conducting inventory activities, and wrapping gifts. Customers want retail sales workers to be knowledgeable about the products they are selling.
Most retail companies need employees to attend paid training classes to learn about store policies and job responsibilities.
Requirements for the Post
Retail sales associates need to have certain attributes, even if their job obligations change from time to time. Brand ambassadors must have the capacity to work well with others and have a friendly disposition.
Customers, store management, and employees must all be able to interact effectively with a customer experience associate. Computer skills, the capacity to stand for long periods of time, and problem-solving abilities are among the additional requirements.
Retail sales associates must be at least 16 years old to work for most companies. Employers often prefer to hire applicants who can work nights, weekends, and holidays, among other shifts.
Compensation & Payroll
An entry-level retail sales associate can expect an hourly wage of between $7.25 and $9.00. In some cases, retail sales associates can earn up to $15.00 an hour, depending on their level of expertise, company, location, and performance history.
Compensation rates are greater in states with higher minimum wage standards than those in the rest of the country. An hourly compensation of $13.00 is the norm for sales associates in the U.S. states and the District of Columbia. According to the Bureau of Labor Statistics, retail salespeople earn an average of $10.00 per hour.
Cashier
Doing Your Job
As a retail cashier, you'll be responsible for a wide range of tasks and responsibilities, which can change from company to company. The most basic function of a cashier is to ring up customer purchases, despite the inherent variability.
Depending on the size of a store, and the number of staff; cashiers may work just at the registers. Some other establishments employ cashiers who handle returns, answer phones and wrap gifts as well as bag sales.
Basic knowledge and memorization are required for all cashier positions, regardless of the business. The return policy, prices, and credit card options should be recognizable to cashiers. Most shops offer paid training classes to get you up to speed on your tasks and the ways things are done in the store.
Requirements for the Post
Cashiers must maintain their composure and demeanor in high-pressure situations, such as the holiday shopping season. Relationship and problem-solving skills gained via customer service work are valuable assets in any job search.
Most retail establishments merely require applicants for cashier positions to be at least 16 years old in order to be employed. Because many point-of-sale systems rely on computer software, cashiers should have some knowledge of computers and technology.
Compensation & Payroll
An entry-level retail cashier can expect an hourly income of $7.25 to $8.50 on average. A skilled cashier can earn as much as $15.00 an hour, depending on the employer and location where they work.
In states like Washington, Alaska, California, and Oregon, retail cashiers receive an average hourly wage of more than $11.00, which is greater than the federal minimum wage of $7.25. The average hourly wage for a retail cashier is $9.50 an hour, according to the Bureau of Labor Statistics.
Receiver for Retailers
Doing Your Job
A retail store's shipping and receiving department employs a receiver, also known as a receiving agent or receiving clerk. Receiving tasks include signing for and keeping track of a delivery, as well as sorting and storing goods.
A receiving agent is responsible for keeping track of all incoming and leaving shipments and submitting records or reports on this activity to the receiving supervisor or assistant manager.
Requirements for the Post
To become a receiver, there are no educational prerequisites. A high school diploma isn't usually required for most retail positions, but applicants must be at least 18 years old. Candidates should be physically fit and strong enough to perform the job's requirements.
The capacity to stand for the duration of a shift and lift up to 50 pounds are usually required physical abilities of receivers. Receiving associates in entry-level positions does not require any prior work experience to be considered for employment.
The vast majority of retail establishments offer new hire orientation classes that cover topics such as store policies and employee responsibilities. Keeping track of shipments may necessitate some computer literacy.
Compensation & Payroll
The average yearly wage for a receiving associate is $27,000. Depending on previous experience, geography, and company, hourly receivers typically earn between $9 and $13 per hour. Employee benefits packages, such as health insurance, 401(k) retirement plans, paid time off, and discounts on shop products and services, may be provided to store recipients.
Store Greeter Job
Doing Your Job
Greeting guests at the door of a retail business is the responsibility of retail store greeters. Shops hire greeters to help with foot traffic during the busy holiday shopping season. A year-round staff of greeters is employed by larger retailers like Lowe's and Walmart. Certain days of the week are designated for greeting duties by retailers like Aéropostale.
Customers' fundamental questions are answered by greeters, and they direct them to the appropriate sections of the business. Handing out leaflets, answering phones, paging coworkers, and inspecting customer baggage are all possible extra duties. In addition, greeters should be aware of all in-store specials and deals.
Requirements for the Post
Greeters are expected to treat customers with respect and courtesy at all times in positions that need them to engage with them on a regular basis. Store greeters should also be able to communicate well in the spoken word.
The capacity to stand for long periods of time is also required for a greeting at a store. Greeters in most retail establishments must be at least 16 years old to work there. Retail expertise is not often required for entry-level greeting employment.
Employers typically don't search for school credentials, although some organizations may demand greeters to have basic reading and math skills in order to get hired.
Compensation & Payroll
The initial hourly wage for a retail greeter is between $7.50 and $9. Retail store greeters can make up to $15.00 an hour depending on their location and tenure with the company. Greeters often make more money in states with greater minimum wage requirements. The average hourly wage for retail store greeters is $9.00.
Advantages and Disadvantages of Working in a Department Store
Advantages of Working in a Department Store
Physical activity should be performed on a regular basis:
Regardless of one's profession, eight-hour workdays can be physically and mentally exhausting. Office employment can lead to muscle atrophy, back pain, and a lower energy level over time because of the lack of movement. On the other hand, the retail job often requires more physical exertion. There are a wide variety of jobs that sales associates are required to complete at most retail establishments that need them to move their bodies in some way. When it comes to fitness, working in a retail environment may not be considered an ideal workout, but it does have an impact on energy levels and is better than sitting all day. It wasn't long after I started working at a retail store after spending nearly two years sitting in an office job that I observed my post-work energy levels soar.
Discounts on merchandise:
In an ideal world, salespeople would work for companies whose products they regularly purchase and utilize. Discounts on items might be an excellent incentive for those in this position. Employee discounts can vary widely from store to store, but the average is often 10% to 30% off the regular price. Sales representatives can be allowed by store owners or managers to add an extra item to a planned supplier purchase and then pay for it at store cost plus shipping. Every six months, my employer at a kitchen supply store permitted me to purchase one thing at cost. Because of this benefit, I was able to save more than half off the retail price of a new set of high-end kitchen knives
Communication with Others:
The face-to-face practice may not be a top priority for people who consider themselves extroverts. However, if you're shy by nature as I am, working in retail might help you gain confidence in your ability to speak in front of large groups of customers. Confidence in greeting customers with a smile and answering their queries appropriately can be scary at first. However, as you grow more familiar with the products, customer interactions become more straightforward. The sheer number of individuals you'll see on a daily basis might have a pleasant desensitizing impact; in my case, it almost completely relieved my modest social anxiety
Building Merchandising Competencies:
Merchandising products can be one of the most satisfying aspects of an in-store career if you have an eye for design. Visually appealing displays are the goal of most stores, and some even go so far as to modify their window displays on a weekly or seasonal basis. Cleaning, rearranging, and displaying merchandise are common activities for sales workers when business is sluggish since clients are more likely to buy things that are attractively exhibited. In smaller, more specialized shops, employees have more freedom in arranging product displays than in large-scale chain stores. For those looking for retail positions, keep this in mind.
Practice with Computers and Math:
A POS system, a cash register, and an inventory management system are commonly used in retail jobs. Using these networked systems, sales workers learn fundamental algebra, computer programs, and inventory-revenue reconciliation. When it comes to retail careers, the basic abilities you'll learn while working at a store are likely to be valuable in the future, as well as in your personal life. You can keep your mind fresh and engaged by sorting information using spreadsheets, swiftly counting money, and performing basic mental math calculations.
Potential for Expansion:
Those that do well in retail are generally able to move into new positions and responsibilities rapidly due to the industry's higher than average turnover rate. Within the first year or two of employment, it is not uncommon for a new sales associate to be promoted to the position of assistant manager. Sales associate jobs are a great opportunity to break into management if you enjoy the variety of scheduling, training, and other higher-level responsibilities that come with working in retail.
Disadvantages Working in Department Store
The Pay Isn't That Great:
Starting salaries for retail sales associate positions are typically lower than average. Of course, this varies from employer to employer, but entry-level retail positions generally pay approximately the minimum wage or a little more. Starting salaries in restaurants and cafés are also often low, although tips from customers can enhance hourly income by several dollars or more on average. Because of this, salespeople shouldn't expect to make more than their hourly rate when working in retail. Pay rises are possible for long-term retail employees who show a strong work ethic and frequent attendance. In the long run, higher-level management roles may result in even greater compensation increases. In spite of this, retail workers typically earn less money than those in the service industry because of tips.
Weekend and Holiday Work:
During the weekends, customers tend to spend more money in stores and shops than during the week. It's for this reason that the vast majority of retail workers must perform at least one-weekend shift. You may find it difficult to spend time with loved ones if your friends and family have normal, Monday through Friday work schedules. Weekend shifts, on the other hand, can be an excellent opportunity for students or those wishing to supplement their income with retail labor. For most retailers, the holiday season is another busy time of year. If you're a fan of crafting, gift-wrapping services may be a welcome break from your usual routine. Due to the long holiday working hours, employees should anticipate working greater hours in the weeks running up to Christmas. Additionally, many businesses need their staff to work right up to Christmas Eve, which can be a hindrance to those seeking to spend the holiday with loved ones far away.
A list of things:
Keeping track of inventory is considered to be one of the most tedious tasks of running a store. When inventory is counted, most stores insist that all staff be present. Employers execute this tedious work on a yearly or monthly basis, depending on how tedious it is to count inventory. If you've ever thought about working at a store you'd like to work at, envision yourself and your employees going through every item on the store's shelves and back stock. In the event that you're unsure if this is something you'd be able to handle, you can ask prospective employers how often they count inventory during your interview.
Communication with others:
While this aspect of the in-store sales experience was named first as a benefit, it can also have its drawbacks. Dealing with challenging customers, stressed-out bosses, and overly caffeinated coworkers can be challenging on bad days. If you're working in an office, it's very easy to stay to one's self and accomplish duties discreetly. However, in retail, we don't have the luxury of doing so. Whatever your state of mind may be throughout your work, you must maintain a cheery demeanor and respectfully converse with customers during your shift. A simple task can be quite difficult for certain people. When considering if retail is the perfect career path for you, take into account your own personality and health.
A lot of turnovers:
When compared to other workplaces, retailers, like restaurants and cafes, have an unusually high rate of employee turnover. As a result, the coworking community may not be as powerful as some would like. This may not be a big deal for people who don't like to interact with coworkers or be social in the office. Another thing to keep in mind when determining where to apply is that smaller retailers tend to keep their staff for longer periods of time than larger chains.
The Workplace Environment Is Indoors:
It's not just retail that suffers from this drawback. Like workplaces, coffee shops, and restaurants, most retail establishments are housed in a building. This isn't a shock or a problem for the majority of employees. In contrast, for people who cherish fresh air, sunlight, and the wind in their hair above all else, the eight-hour shifts under fluorescent lights may feel stifling.
Professional Resume Writer (Written 2500+ resumes), Career branding specialist, Former Recruiter at David Aplin Group, Freelance analyst and Co-Founder in a reputable Resume Writing Firm.