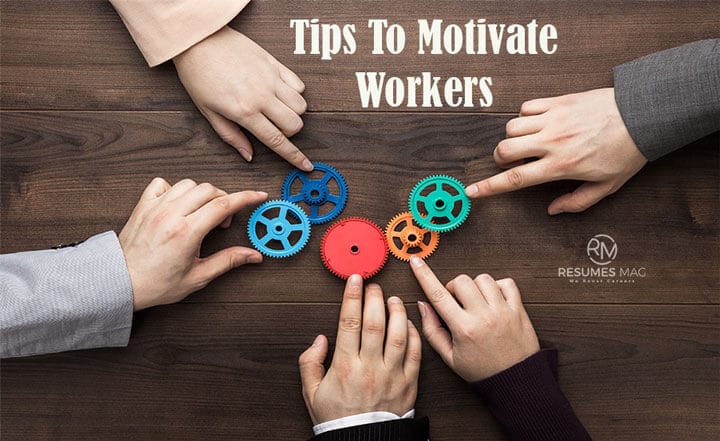 As a manager, to get the best performance from your team, you need to know how to motivate workers. Motivation can be seen as a challenging process, especially if you're a manager who has enough authority to give commands! So, why bother yourself with all these theories dissecting motivation from different prospects as diverse as they come.
Actually, it is proven that a motivated employee has much higher potential in terms of work performance and results than unmotivated ones, even when they follow the manager's directions in a proper way.
Read: How to get motivated while searching for a new job
Now; we're going to give you the most efficient tips to help you motivate your team and employees, aiming to give you standards to follow, and benchmarks to use in evaluation while you're trying to make your team a more motivated one.
Top 5 Tips To Motivate Workers
If you are looking to motivate your workers, the following tips will help.
1. Be a role model to your employees. Inspire your employees to find out their passions and how these can help them at work. You can encourage them by providing projects in their area of interest. If your employees are happy, they will be motivated.
2. Define the organization's strategy, vision, and mission and ensure you define the goals of each employee. It helps to include your employees when crafting the goals and objectives. Your employees should understand what role they play in making the department successful. Make sure that all employees are in sync with the overall strategy as this makes everyone work as a team. It makes for positive team energy.
3. Delegate any challenging and meaningful duties to empower your employees to succeed. Everybody appreciates learning and growing, so allow your employees to do so.
4. Work with individual employees to make a personal development plan. Once this is done, you can make provisions for coaching and mentoring, which will help better their skills as well as their sense of accomplishment and competence.
5. Ensure you check each employee's progress towards the goals they have set. Utilize a work schedule template to easier track progress. You should also reward positive behavior to keep your employees motivated. The rewards can include recognizing an employee's positive behavior in the presence of their peers.
Professional Resume Writer (Written 2500+ resumes), Career branding specialist, Former Recruiter at David Aplin Group, Freelance analyst and Co-Founder in a reputable Resume Writing Firm.