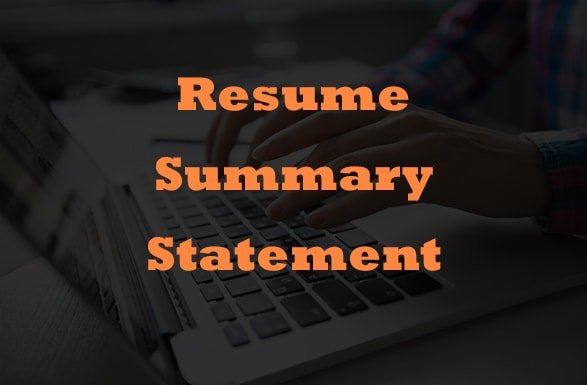 Resume Summary Statement
For many candidates, there is a confusion whether to use Resume Summary Statement at the very start of their Resume or not. Why? Let me tell you! 
A Resume Summary Statement is mainly a few sentences located at the top of your resume (just beneath the contact information). It highlights your qualifications and summarizes your skills and experiences for a job.
It must be well worded, well targeted and capable of giving the Hiring Manager a synopsis that tells your professional qualifications, and how you would be an asset to the firm.
What makes the confusion about whether to use it or not; the lack of awareness for the term meaning, and how to use it wisely in your living resume.
---
---
How to Write a Resume Summary Statement?
 Follow these few steps carefully to write your professional resume summary statement: 
Read the post of the job seeker and determine your target audience, keeping your eyes on the keywords.

Ask yourself what qualifications and values that the hiring manager is looking for.

Find some professional and unique phrases to describe your qualifications and why you are a great fit for this job.

Include your career highlights, key strengths, skills, core competencies and your experience in doing the job.

Demonstrate the value you've added to your previous company.

Add additional certifications or achievements

which match what the company needs

.
Maximize your potentials, and summarize all the information in four to six sentences.

You can include the names of a few companies which you have worked for previously.
However, there are few things which must not be included within your statement like:
Microsoft Office and other commonplace things: Such simple programs are not a valuable advantage as everyone must be proficient with them.

Things that you hate doing: Such thing must not be included in your summary statement or they will be a part of your everyday job.

Overused words like 'innovative', 'multitasker', 'team player' 'open-minded' 'results-oriented,' 'hardworking,' and 'motivated': Avoid using these words and replace them with action verbs.

Do not address circumstances related to personal issues, employment gaps or change of career.
---
---
After knowing what to include and what to avoid, it is time to start writing yours.
Start the statement with your title to communicate your professional identity.

Be specific and make the statement tailored to the position and the company as well, so if you are applying to five jobs you must have 5 different statements.

Focus on showing the manager how you can benefit his company and not how they can benefit you.

Make your statement valuable, short and sweet.

Finally, combine all the above information to create an engaging, catchy resume summary statement.
Examples for Resume Summary Statement
Check the following resume summary statement examples for professionals to illustrate the above steps:
Example 1
Seasoned Architectural Project Coordinator with more than 10 years of experience. Versatile, bilingual professional with management experience ranging in managing and executing small private projects as well as high corporate construction projects. Able to manage and oversee all the team members as well as to ensure meeting deadlines of the project while remaining on or under budget. Expert in limiting risk and creating lean teams.
Comment: This statement is perfect for many reasons. It is short and sweet, and it tells the reader exactly who they're dealing with and what they have to know about you. It opens with the title of the job-seeker and years of experience, then gives more details and accomplishments.
---
---
Example 2
Experienced Administrative Office Manager with 7+ years experience. Expert in supporting directors and executives within various organizations including GCM group and Tata Industries. Proficient in CRM applications and design programs. Versatile and reliable with diversified skills include business development, recruiting, client relations, human resources, project management, and administrative support.
Comment: It is another amazing statement beginning with Project Manager as the title, then the number of years of experience. It also mentions skills related to the position and some previous companies.
Example 3
Engineering Graduate with with solid academic experience from the University of Mumbai, India. Developed skills in project management, developing strategies, organization and research with a background in business development, office administration and organization. Ability to provide administrative support and professional communication skills.
Comment: If you don't have any experience or you are a fresh graduate, this could be suitable for you.
Example 4
Proven IT Specialist with experience in start-ups as well as established operations. Extensive expertise in organization, web development, computer networking, and problem solving to provide exceptional user support and assistance in resolving conflict. Experience includes managing sensitive materials and providing after-hours support for clients.
Comment: This is very good as the reader can know that the candidate was in the different field but his skills enable him to be a good fit for the job he is applying for. If you are about to make a twist in your career, this statement could be yours.
Finally, knowing How to write a Resume Summary statement will help you to do it the right way. Your resume summary statement must be a reflection of your personality and skills in the domain of the job, so think long and hard before writing your statement.
Reference: University of California, Berkeley
I am an English literature graduate, a home-based writer and proofreader of 5+ years experience.