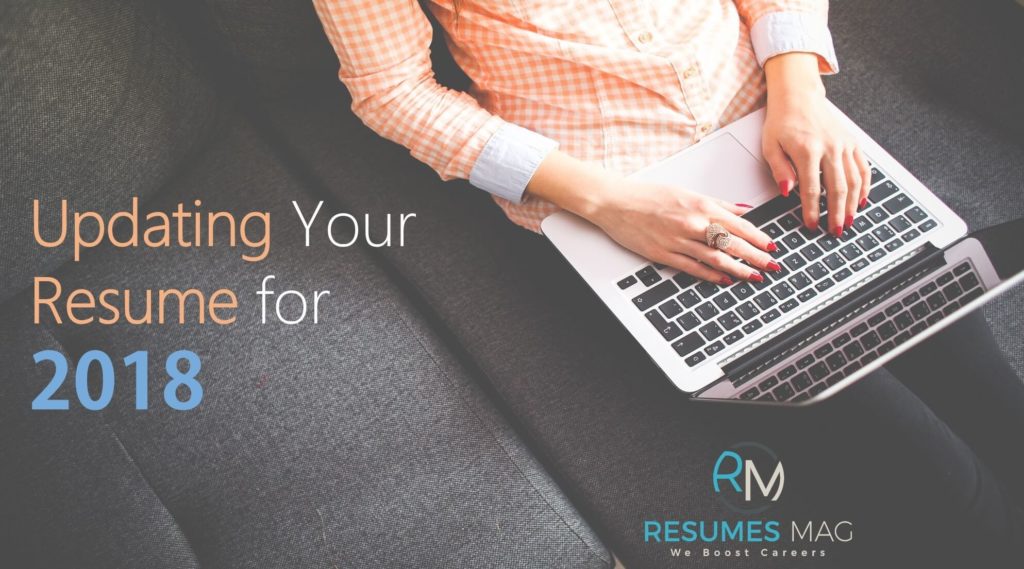 May be it is the right time to get your resume in shape for the job hunting season ahead. As it is always a good idea to do an annual update for your resume to ensure that new achievements, goals, relevant skills and work experience is well recorded.
You also have to look back at the past year and omit out what isn't relevant anymore.
In addition to that, reshaping your resume to keep up with the latest tips and suggestions will always be a positive factor, that will help you to get noticed.
---
---
Updating Your Resume for 2018
Now-a-days, it only takes hiring managers and recruiters 6.25 seconds to decide whether you deserve a chance for an interview or not, so if that resume isn't updated, it isn't going to make the splash that it needs to get you in the door.
With this said, you really should have a "ready resume;" one that is updated consistently. So let's start the New Year right with these resume tips for updating your resume for  2018.
Revise, Edit and Proofread
Hiring managers do not want to see a career history that spans past a decade or two unless the work experience is extremely relevant to the job position. Instead potential employers want to see current experience and achievements directly related to the field you are currently in and the position you are applying for, so edit for this!
You also need to make sure you update your physical address, add in a proper e-mail address and make sure your resume matches your social media accounts (LinkedIn profile).
Go ahead and update your skills and your summary to reflect current career standing. It also goes without saying, proofread, proofread and proofread some more to omit irrelevant information and grammar mistakes. Hiring managers want candidates that pay attention to details.
---
---
Add in the Metrics
Every company will have metrics that will determine whether you are a good fit with the company or not. If you can help the company grow, manage their clients or even increase sales volumes, then put these metrics on the resume. Not only do they help your resume stand out, but are an easy way to show off what you can do and who you are as a professional. Some examples of quantifiable results that you can show off are: sales volumes, revenue increases, and goals achieved.
Get Recruiter Feedback
If you have the opportunity, then get resume feedback from a hiring manager or recruiter. You may think your resume is amazing but you aren't the one whose doing the hiring, so you don't know what is annoying to see or what actually works. Get honest feedback and make the necessary changes.
---
---
Use the Right Keywords
It is no mystery that companies use computer programs to sift through the thousands of resumes that they get. So use this to your advantage and figure out what keywords you need to use to have your resume flagged for further inspection. Head over to your favourite job search website and find common and significant keywords in each position and description. Then turn around and add these into your resume.
Review the Past Year's Accomplishments
Although you may not really be aware of it, you've probably made a lot of progress in the past year. Review your accomplishments and update your resume accordingly. If you developed new skills, got some certifications, or even received a promotion; these are all accomplishments that should be focused in on and highlighted.
Changing up the layout
You may want to consider changing up the layout of the template. Use a simple font, a visual theme that doesn't detract from the information and find an appealing color palette.
You may find a suitable template for you on our Resume Templates Shop !!
Finally, you should spend some time designing the overall look of your resume by adding in bullet points, page breaks, metric graphs and horizontal line separations. Make sure to have certain sections stand out like your comprehensive overview (summary) and your contact information. It's all about showcasing who you are, what you can do and why you are relevant for the position you are vying for.
I am a professional blogger, love to give you the latest tips and tricks in the filed of Resume Writing.