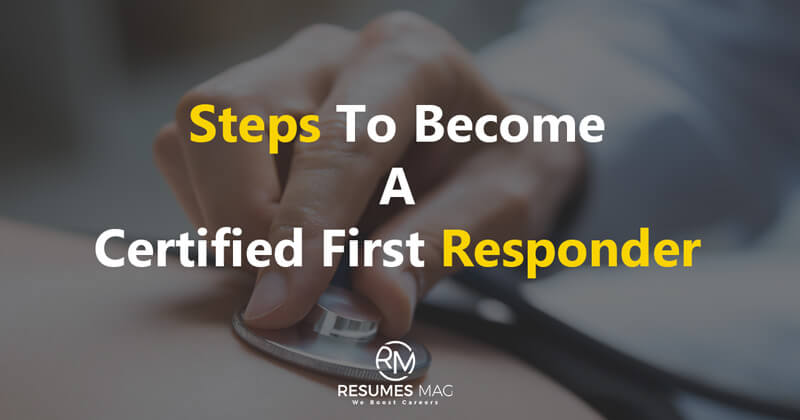 First responders are the first healthcare providers to show up at an accident scene. It takes a lot of hard work and dedication to become a certified first responder. At first, it requires that you pass a  state-acknowledged practical training course to qualify you to provide healthcare in the accident scene before transporting the injured to the hospital.
Certified First Responder is always needed whenever a medical emergency is necessary. As a vital part of the Emergency Medical Services, a first responder promptly evaluate the condition of the injured, calls an ambulance, and gives the first aid. The most important trait they must have is to stay calm in the darkest situations.
First Responder Career Requirements
So, if you are seeking to become a certified first responder, then there are essential milestones that you should reach one by one
GED (General Educational Development) or HSD (High School Diploma).

Pass all State-approved First Responder training course.

Get a National Registry of Emergency Certification from NREMT (National Registry of Emergency Medical Technicians).

CPR certification up to date (Cardio-Pulmonary Resuscitation).
There are also essential skills any first responder must have
Be able to provide first aid professionally.

First Responder must be able to respond to emergency medical needs.

Communicate professionally with co-workers, especially in the accident scene.

Crisis Management Skills.
You can access more info about these requirements on the official websites for The U.S Department of Transportation, the U.S Bureau of Labor Statistics, and the Emergency Medical Technicians websites.
It is important to know that – up to Chron – the average salary for a first responder is about $35,000 per year, while top levels of first responders can earn up to $53,000 per year, and entry-level earn about $19,000.
Taking into consideration the average salary to work as a first responder, well-reputed companies like Ambulnz provide people with the right qualifications – some great benefits too – so it can be a great career to work in it.
So, let's take it in steps to look closely at the main milestones you must reach to become a certified first responder.
Steps to Become a Certified First Responder
Step 1: Get HSD or GED
As we mentioned, to become a certified first responder, you must have either a High School Diploma or to pass the GED test. A first responder career needs to have a good education that makes you have what it takes to become a certified first responder.
Step 2: Get CPR Certification
Emergency medical responders need to have an up to date certification in CPR. Typically, certification can be obtained from well-known venues like the American Heart Association or the National Institutes of Health.
But to get the certification, you need to take CPR training firstly. All the venues mentioned above have training programs to qualify candidates to get the CPR certification. These courses provide more in-depth training compared to conventional CPR training courses.
Instruction includes rescue breathing, using an automatic external defibrillator, as well as 1 and 2 rescuer CPR procedures.
Step 3: Complete a State-Acknowledged First Responder Course
The standard curriculum for medical emergency responders is the United States Department of Transportation. It's divided into seven modules, making a total of 26 classes. These lessons address patient assessment, patient preparation, medical emergencies & illnesses, EMS operations, airway management, circulation, and situations involving infants and childbirth.
The course ideally teaches how to utilize specific medical equipment and report to the authorities and emergency medical technicians. It's a 40-hour course that takes about a month to complete.
Step 4: Pass the Certification Exam for Career Advancement
NREMT or the National Registry of Emergency Medical Technicians provide certification as well as recertification to medical emergency responders. To get a certification, you need to pass psychomotor and cognitive exams via the NREMT and a state licensing agency.
The cognitive section covers a wide array of emergency care aspects, while the psychomotor one involves a hands-on demonstration of the skills learned. Once you finish the training course, you receive certification, which can help increase your employment opportunities as a first responder.
So there you have it in steps to become a certified medical emergency responder.
Professional Resume Writer (Written 2500+ resumes), Career branding specialist, Former Recruiter at David Aplin Group, Freelance analyst and Co-Founder in a reputable Resume Writing Firm.